Water is essential for agriculture and for managing farms effectively. Securing an ample water supply for both crop cultivation and animal rearing has become more complex due to factors like changing climate conditions, urbanization, escalating population, droughts, aquifer exhaustion and policy shifts.
As a result, it is essential to implement effective water storage techniques for farming and agricultural purposes. This article will examine water storage options and the solutions from Tank Depot.
The Importance of Agricultural and Farm Water Storage Solutions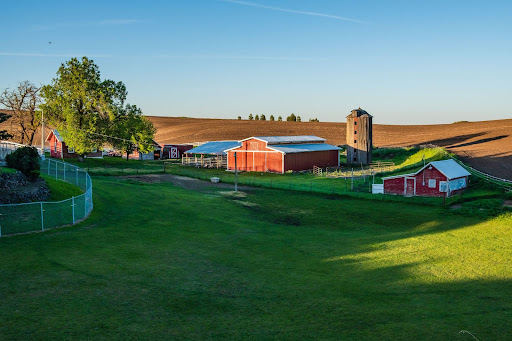 A continuous and dependable water supply is crucial for agriculture and farming activities. Water is essential for various agricultural purposes, such as crop watering, drinking water for animals, sanitation and other farming tasks. With water resources becoming increasingly scarce, farmers have to adopt effective water storage systems that ensure a steady water supply and also minimize waste while lowering expenses.
Water Storage Categories
Two main types of water storage solutions exist — on-farm and off-farm storage.
On-Farm Storage
On-farm storage includes ponds, reservoirs or tanks located on the farm's premises that serve the irrigation and livestock requirements directly.
These types of systems aim to gather and store water from different sources such as rainwater, surface water or groundwater in order to provide the farm with the necessary water when needed.
Off-Farm Water Storage
Off-farm water storage involves relying on water resources located outside the farm's boundaries. This method could face difficulties if external water sources experience issues such as droughts or legal disputes.
Types of On-Farm Water Storage
Underground Tanks
Subterranean tanks are favored in agricultural and farm water storage because they conserve space, maintain water quality and reduce evaporation loss. Constructed from robust materials such as polyethylene or fiberglass, these tanks are designed to endure the pressure applied by the adjacent soil. As they are buried underground, the tanks remain hidden to leave more space for farming activities.
The water stored in underground tanks is protected from direct sunlight which can reduce the growth of algae and other contaminants.
Above Ground Tanks
Another type of water storage solution for agricultural and farm applications is above-ground tanks. Commonly constructed from materials like polyethylene or steel, these tanks come in diverse sizes and configurations, such as vertical and horizontal cylindrical forms. Installation of above-ground tanks is simple, they demand little upkeep and allow for rapid access when it comes to inspection and sanitation.
They are an ideal choice for farms with limited space or those needing a temporary water storage solution.
Tanks for Trucks
Portable water storage options, like tanks designed for trucks, play a crucial role in supporting farms located in isolated regions with scarce water access. They can be affixed to trucks, trailers or different vehicles to carry water to farms for uses such as irrigation, livestock hydration and more.
Usually constructed from lightweight and robust polyethylene, truck-mounted tanks come in a range of sizes to accommodate the unique requirements of each farm.
Rainwater Harvesting Systems
Employing rainwater collection can be both environmentally responsible and economically efficient for supplementing water needs in agricultural and farming activities. By capturing rainwater from building roofs, farmers can substantially decrease dependence on external water resources, decrease water expenses and maintain a reliable water source during periods of low precipitation.
Components of a rainwater collection system consist of guttering, downpipes, filtration systems and storage containers, which can be positioned either above or below ground.
Tank Depot Water Storage Solutions
Tank Depot has an extensive selection of water storage options ideal for agricultural and farming purposes, such as:
Subterranean Tanks and Cisterns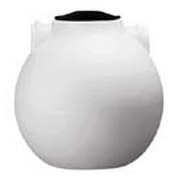 Tank Depot - 250 Gallon Underground Water Cistern Storage Tank
Subterranean tanks and cisterns are top-quality polyethylene or fiberglass underground water storage tanks that are built for long-lasting use, with capacities spanning from 300 to 50,000 gallons. These tanks are simple to install and include a guide covering installation and upkeep.
Elevated Water Reservoirs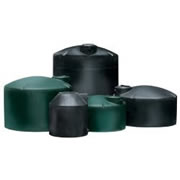 Tank Depot - Plastic Vertical Water Tanks
Tanks for storing water above ground come in a range of materials such as polyethylene and steel. Elevated Water Reservoir containers differ in dimensions and form with capacities ranging from 50 to 50,000 gallons. Boasting longevity and durability, they are easy to install and can be customized to accommodate the specific requirements of individual farms.
Transportable Reservoirs
Tank Depot - 60 Gallon Hauling Tank 1006
For agricultural operations in isolated areas or those requiring easily movable water storage options, Tank Depot has a collection of Transportable Reservoir containers engineered to be affixed to trucks and trailers.
Agriculturists have the option to select from diverse capacities, forms and dimensions that cater to their specific demands. These reservoirs are not only lightweight and robust but also straightforward to clean and upkeep.
Rainwater Collection Systems
Tank Depot - Steel Water Tanks
Tank Depot supplies a variety of Rainwater Collection Systems to assist farmers in gathering and storing rainwater for agricultural purposes.
The collection systems include filters, storage tanks and other essential accessories. They provide both underground and above-ground storage tanks, allowing farmers to select the most appropriate option for their farms.
Selecting the Right Water Storage Solution for Your Farm
When choosing a water storage solution for your farm, consider the following factors:
Water Requirements
Analyze your farm's water needs, taking into account factors such as crop irrigation, livestock hydration and cleaning. Choose a water storage solution that can adequately meet these requirements.
Space Availability
Consider the available space on your farm and whether an above-ground or underground water storage tank would be more appropriate. If space is limited, an underground tank may be the better option.
Mobility
If your farm is located in a remote area or requires a mobile water storage solution, opt for tanks designed for truck or trailer mounting.
Budget
Consider your budget when choosing a water storage solution. While underground tanks may have a higher upfront cost, they may save money in the long run due to lower evaporation and contamination risks.
Environmental Considerations
Rainwater harvesting systems are an eco-friendly way to supplement your farm's water supply. They can help you conserve water, reduce your environmental footprint and save money on water bills.
Find Your Perfect Water Storage Solution with Tank Depot
Tank Depot has a wide range of water storage solutions to meet the diverse needs of agricultural and farm applications. We have been providing tanks to the agricultural community since 1998, and we have 12 locations across the country.
Contact us today to find the perfect water storage solution for your farm or to locate a store near you!