Are you searching for the best water storage solution for your residence or commercial property? Round water storage tanks offer advantages over other traditional storage methods. They can be used both indoors and outdoors, which makes them a great choice for places where water access is limited. They are also durable enough to withstand severe weather conditions and require very little maintenance.
What Are Round Water Tanks?
Round water tanks are versatile storage solutions that come in various shapes, such as spherical, paraboloid or cylindrical. Compared to square or rectangular tanks, round water tanks are equipped with better design features that can provide both economic and structural benefits. Made from steel, plastic or concrete, they are extensively utilized in different settings, such as residential, commercial and industrial.
Economical Structure
One notable benefit of round water tanks is their efficient structure, which allows for a smaller ratio of circumference to area. In other words, they have a smaller surface area compared to box-shaped water tanks that hold the same amount of water, which makes them a more cost-effective choice.
Structural Advantages
Round water tanks boast a more robust structure, which can be attributed to the absence of corners or stress points. This design ensures that the tanks are less prone to cracks or leaks, which results in a longer lifespan and reduced maintenance costs.
Aesthetics
In addition to their practical benefits, round water tanks have a visually pleasing appearance that blends seamlessly into various landscapes and architectural designs. Their curved shape adds a touch of sophistication and modernity to any setting.
Versatility
Round water tanks are versatile and can be used in various applications and they are also available in multiple sizes in order to meet the diverse needs of homeowners, businesses and industries.
Unique Use-Cases for Round Water Storage Tanks
Rainwater Harvesting
Round water tanks are ideal for rainwater harvesting systems. By installing a large round water tank, homeowners and businesses can collect rainwater and use it for various purposes, such as irrigation, toilet flushing or even drinking water, when properly treated. Tank Depot offers a range of round water tanks suitable for rainwater harvesting:
305 Gallon Black Rain Harvesting 3-Inch Kit
Tank Depot - 305 Gallon Black Rain Harvesting 3" Kit
The 300 Gallon Black Rain Harvesting Kit helps you collect and store water sustainably, which is essential for drinking, washing, irrigation, emergencies and many other daily activities.
RTS 600 Gallon Complete Rainwater Harvesting System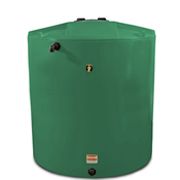 Tank Depot - 600 Gallon Complete Rainwater Harvesting System
Our RTS 600 Gallon Complete Rainwater Harvesting System rain harvesting system is an efficient, economical and unique way to capture and store rainwater. It has an attractive design that can enhance the look of your landscaping and garden.
Rainwater is slightly acidic which can benefit your plants by improving their access to soil nutrients. In addition, by using this system, you can help conserve the local water source.
This rainwater harvesting system is equipped to provide you with free, naturally soft water for various purposes such as keeping your plants healthy, maintaining a lush green garden, filling your pool and washing your vehicles. It comes with a 600-gallon tank that includes U.V. inhibitors, a 1/6 HP submersible sump pump, a drain with a plug, a brass spigot, an inlet pipe and a leaf catcher.
RTS 1200 Gallon Complete Rainwater Harvesting System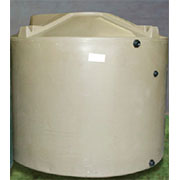 Tank Depot - 1200 Gallon Complete Rainwater Harvesting System
The RTS 1200 Gallon Complete Rainwater Harvesting System is made of commercial-grade polyethylene with UV8 inhibitors to prevent mold and algae growth. This ensures that the stored water remains fresh and beneficial for a long time. The tank has uniform-thickness walls to provide reliable service for several years. You can use a special hose, which includes a leaf catcher, to divert water from your downspout to the 1200-gallon tank.
Fire Protection
Businesses in rural areas or those with a high risk of fire can use round steel water tanks as a fire suppression system. Storing a large volume of water on-site ensures that you have a reliable source of water in case of emergencies. Tank Depot has a selection of round water tanks designed specifically for fire protection.
NFPA 22 Fire Protection Tanks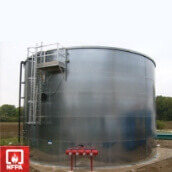 Tank Depot - Steel Water Tanks
Due to stricter regulations and insurance requirements, tanks for fire protection are currently in high demand. Tank Depot has a variety of options to customize such tanks and works with vendors who can engineer tanks specifically for commercial, industrial and municipal applications as dedicated reservoirs and water supply configurations. Fire protection tanks can be designed according to NFPA-22, FM and AWWA standards.
Water Storage for Remote Locations
For properties in remote areas with limited access to water, installing a large round water tank is an excellent solution. By storing water on-site, these properties can ensure a reliable water supply for domestic, agricultural or industrial use.
1050 Gallon Ace Gusseted Top Tank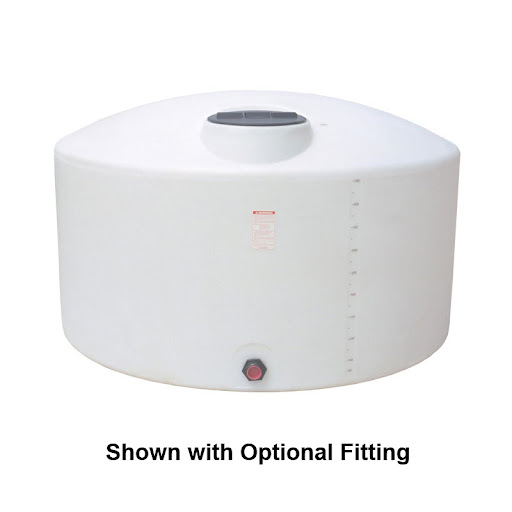 Tank Depot - 1050 Gallon Vertical Liquid Storage Tank
The Ace Roto-Mold Vertical Tanks can be used both indoors and outdoors. They have a flat bottom and are made of medium- or high-density polyethylene with UV inhibitors. These tanks follow the NSF/ANSI Standard 61 and have gallon indicators on the walls that are translucent. They are also free-standing so they do not require support.
Get Reliable and Durable Round Water Tanks for Your Home or Business Today
If you're in need of round water tanks for storing water or protecting your property from fire, Tank Depot has the perfect solution at the lowest price.
Our selection includes tanks made of premium materials that are resistant to harsh weather conditions and have a long shelf life. Plus, they come with gallon indicators that make it more convenient for users to monitor the water levels. Contact us today for more information or to locate a retail store near you!